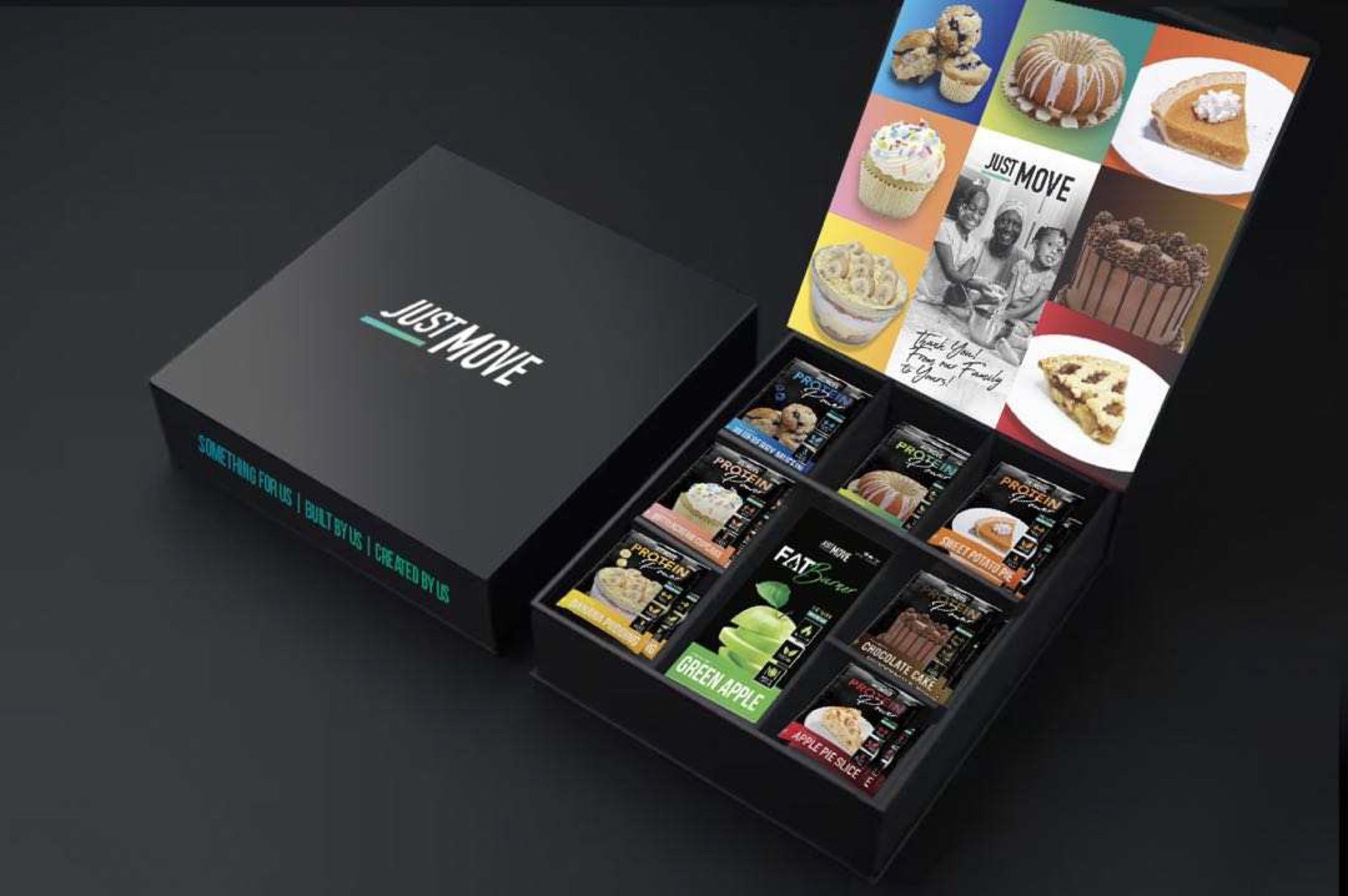 Introducing The BLACK BOX by Just Move Supplements
The Just Move Supplements assortment box also known as "THE BLACK BOX" is a delightful option for individuals seeking a wide range of nostalgic flavors in their protein supplements. With 28 protein sample packs, each containing four servings of flavors like apple pie, sweet potato pie, blueberry muffin, Mama's sweet potato pie, Grandma's lemon pound cake, buttercream cupcake, and chocolate cake, customers can enjoy a different indulgent flavor every day of the month.
The assortment box is not only packed with delicious flavors but also designed to be travel-friendly, making it convenient to take on the go. Whether you're heading to work, the gym, or on a vacation, these individually packaged protein samples can easily fit into your bag, ensuring that you can maintain your protein intake no matter where you are.

This assortment box is an excellent choice for those who crave variety and have a fondness for nostalgic flavors. Each flavor offers a taste of comforting memories, providing a satisfying and enjoyable protein supplement experience.

Moreover, the Just Move Supplements assortment box can make for a fantastic gift for someone looking to kickstart their journey towards a healthier lifestyle. It offers a diverse range of flavors, allowing the recipient to explore and find their favorite options.

Whether you choose to share these delightful protein samples with friends or savor them all by yourself, the Just Move Supplements assortment box promises a month of indulgent variety and deliciousness.

2 comments
I watched you post. I too will support. I can not wait to try all flavors.

denise thomas on

So excited for this pre order. Been waiting to order this and looking forward to ordering more!

Nancy Reiland on