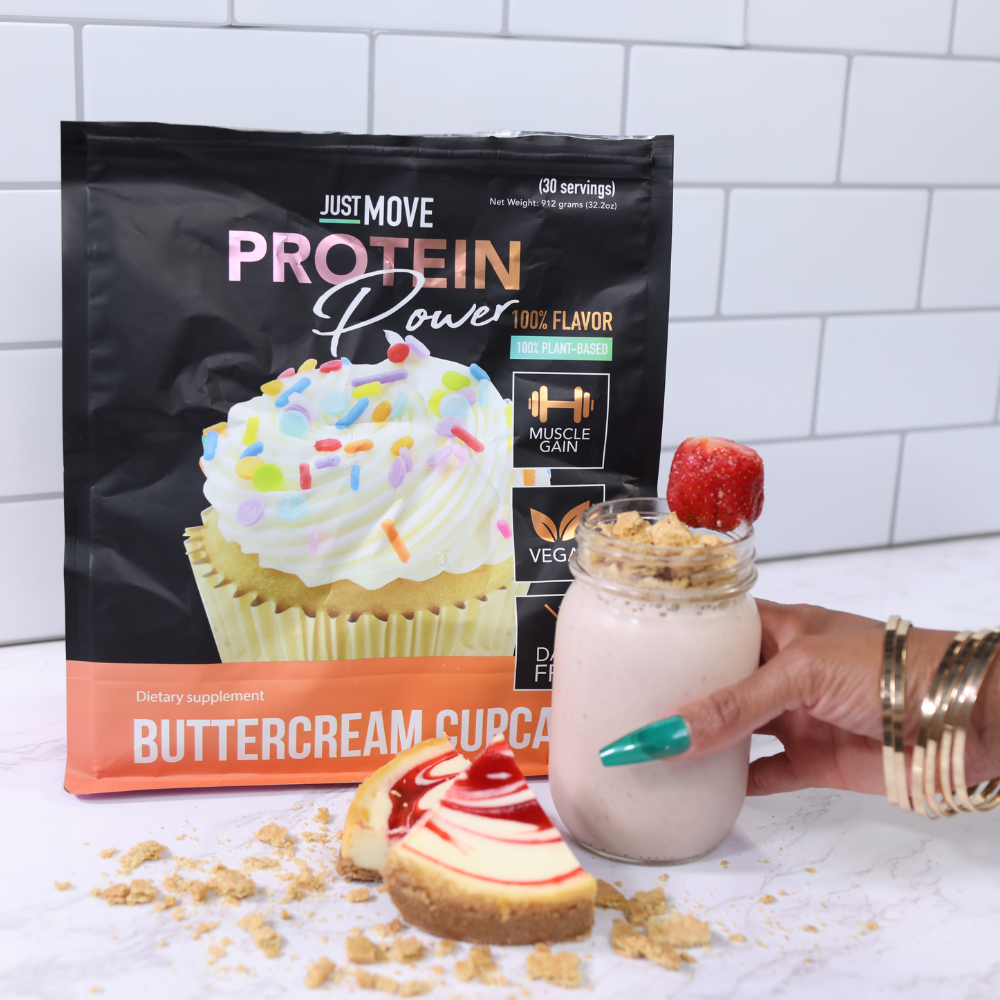 Unleashing the Power of Plant-Based Protein: Just Move Supplements
Hey, beautiful souls! It's your girl Keaira LaShae here, and today, we're going to dive into the incredible benefits of incorporating plant-based protein from Just Move Supplements into your fitness journey. As a fitness enthusiast, dancer, and health advocate, I am thrilled to share with you how this powerhouse of plant-based goodness can transform your life and help you reach your fitness and wellness goals. So, let's lace up those sneakers, get moving, and explore the magic of Just Move Supplements!
1. Nourishing Your Body Naturally: One of the most significant benefits of using plant-based protein from Just Move Supplements is that it nourishes your body with pure, natural goodness. Our supplements are derived from plants like organic peas and organic brown rice which means they're free from any animal products or artificial additives. Embracing plant-based protein not only supports your health but also contributes to a more sustainable and compassionate world.
2. Easy Digestion and Gut Health: Say goodbye to bloating and discomfort! Just Move Supplements' plant-based protein is gentle on your digestive system, making it perfect for those with sensitive stomachs. Unlike some animal-based proteins that can be heavy and hard to digest, our plant-based protein is packed with fiber, enzymes, and antioxidants that promote a healthy gut and smooth digestion.
3. Fuel Your Workouts Like Never Before: As a fitness enthusiast, I know how important it is to fuel your body for peak performance. Just Move Supplements' plant-based protein provides all the essential amino acids your muscles need to recover and grow stronger after workouts. Whether you're smashing it at the gym, crushing dance routines or fitness challenges from the IfYouCanMove app, or embarking on a yoga journey, this protein will be your ultimate workout buddy.
4. Plant Power for Muscle Building: "But, Keaira, can I build muscles on a plant-based diet?" Absolutely! Just Move Supplements has got your back! Our plant-based protein contains a powerful blend of proteins that supports muscle protein synthesis, helping you sculpt that toned, strong physique you desire. Combine it with a balanced diet and a kick-ass exercise routine from the IfYouCanMove online gym, and you'll be unstoppable!
5. Satisfy Cravings the Healthy Way: Cravings can derail the healthiest of intentions, but fear not! Just Move Supplements' plant-based protein shakes are here to rescue you from those tempting treats. Our protein shakes come in various delicious flavors that will satisfy your taste buds without compromising your nutrition goals. Banana Pudding, Apple Pie, Blueberry Muffin, and many more – take your pick and conquer those cravings!
6. Embrace a Happier, Healthier You: Ultimately, using Just Move Supplements' plant-based protein allows you to embrace a happier, healthier version of yourself. When you fuel your body with the right nutrients, you experience increased energy levels, improved mood, and a sense of well-being that radiates from within. It's not just about looking good; it's about feeling AMAZING!
Ladies and gentlemen, plant-based protein from Just Move Supplements is a true game-changer! Not only does it provide the nourishment your body needs, but it also empowers you to make a positive impact on the planet. From supporting your workouts to promoting gut health and muscle growth, this plant-powered goodness has it all. So, let's take a step towards a healthier, more compassionate lifestyle – one delicious shake at a time! Remember, beautiful souls, you are worthy of feeling fantastic. Just Move and shine bright like the stars you are!